New!!!! Project Data for Job Timer 3
Beta 1.0.16
Available Now.
I Created a new Plug in for Job Timer 3. Project Data will allow you to search invoices with the same Customer name or Project name and add up the totals for each invoice automatically. This will come in handy when you want to find out how much one project is costing or how much one customer has accumulated. Plus it will show all invoices and add all of their totals or it will show all due invoices so you have an idea of how much is still uncollected. I hope this will be a great addition to Job Timer 3. The Job or Project Activity will be found in "Reports" in Job Timer 3 itself, this feature is a part of Job Timer 3 and what makes Job Timer 3 special, but not to be confused with Project Data which is for managing your Invoices only.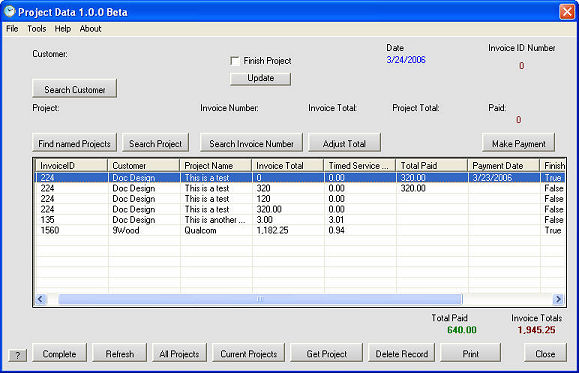 Click on image for a larger screen shot
Download Version 1.0.16
Download Version 1.0.16 (Install Shield Version)
I was asked not too long ago, "Why isn't Project Data part of Job Timer 3 instead of a plug-in or Module"? Some of you may or may not want this feature for Job Timer 3 so I made is separate. Not everyone will use this feature because they choose to keep track of their invoices in a different way (another program, paper trail etc.) Instead of making Job Timer 3 too bulky and carrying around more code than it needs too. This feature is optional and works with Job Timer 3 flawlessly.
The best part is that this invoice program is free!!! but it only opens Job Timer 3 Invoices.
Manage your Invoices better with this new program.
Interactive Web Page